How many votes (in %) will the PARTEI MENSCH UMWELT TIERSCHUTZ win in the Bürgerschaftswahl in Bremen 2019 (kl. Parteien)?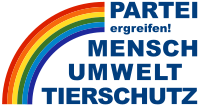 Die Partei
Mensch Umwelt Tierschutz
(kurz:
Die Tierschutzpartei
, bis November 1993 MUT) ist eine 1993 gegründete Kleinpartei in Deutschland, die sich schwerpunktmäßig mit dem Themen Tierschutz und Tierrechte auseinandersetzt.
Homepage:
http://www.tierschutzpartei.de